We all are very much familiar with name "Rishikesh". Yes, we are talking about yoga capital of the world. today we will discuss best places to visit in Rishikesh..
Places to Visit in Rishikesh 
Rishikesh, a heaven for all the travelers. Rishikesh not only offer a spiritual side but this city offers a lot to all kinds of travelers, be it Adventure lovers , Luxury lovers, Spiritual lovers or tourists.. Rishikesh will never disappoint you. And the best part is , if you are travelling for 2nd or 3rd time, this city will never let you bore like other cities. Here we are going to discuss the must visit places in Rishikesh:—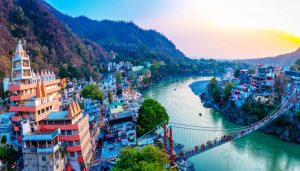 Laxman Jhula: Laxman Jhula is a famous landmark place in Rishikesh, Laxman Jhula has 450 feet length "footbridges" (suspension bridge) across the Holy River Ganges, connecting Pauri district with Tehri district of Garhwal in Uttarakhand. From Laxman Jhula you can enjoy panoramic view of river Ganga and Rishikesh city having number of temples. The Laxman Jhula is well-known amongst with all the tourists because it is believed that Lord Laxman, the younger brother of Lord Rama, had crossed the river Ganga at this same site, where the bridge now majestically stands for all to see and The construction of the bridge (Laxman Jhula) was completed in the year 1929.
Ram Jhula: Ram Jhula is one of two "footbridges" (suspension bridge) across the Holy River Ganga, located 3 kilometres north-east from the main town of Rishikesh. Ram Jhula is also a famous landmark place in Rishikesh. Ram Jhula has the length of 450 feet connecting to Shivananda Ashram with Swargashram. You can also have a panoramic view of river Ganga and Rishikesh city having number of temples from Ram Jhula.
Triveni Ghat (Rishikesh Ganga Aarti): Triveni Ghat is a ghat is the biggest and most famous ghat in Rishikesh at the banks of Ganga. Triveni Ghat is crowded with devotee to take ritual bath to get rid of their sins. Being the most venerated ghat in Rishikesh, Triveni Ghat is even used by devotees to perform the last rites and rituals of their loved ones. The ghat is famed for the Rishikesh Ganga Aarti performed to the chants of Vedic hymns. On the Side Triveni Ghat you can also visit the Gita Mandir and Lakshminarayan Temple.
Parmarth Niketan Ashram: Parmarth Niketan Ashram is situated in the banks of the River Ganga in Riashikesh. The ashram was founded in 1942 by Pujya Swami Shukdevanandji Maharaj (1901–1965). The Parmarth Niketan Ashram is the largest ashram in Rishikesh with 1000 rooms, Parmarth Niketan Ashram provides a clean, pure and sacred atmosphere as well as abundant, beautiful gardens to thousands of pilgrims, who come from all corners of the Earth. The daily activities at Parmarth Niketan Ashram include of daily yoga specializing in Vinyasa yoga, general Hatha yoga and yoga Nidra.
Neelkanth Mahadev Temple: Neelkanth Mahadev Temple is a one of the most popular temples of Lord Shiva. A famous pilgrimage near Rishikesh, the temple lies above Swargashram adjacent to Nar Narayan mountain range at the height of 1330 mtrs. Neelkanth Mahadev Temple is Located 32 km from Rishikesh.
Neer Garh Waterfall in Rishikesh: Neer Garh Waterfall are the real beauty to witness, which falls off a cliff as high as 25 feet. you can spot a rich variety of flora and fauna flocking around the Neer Garh Waterfall in Rishikesh, Visiting Neer Garh Waterfall in Rishikesh will ensure an unmatchable experience for you. It's Located from Main Rishikesh around 10-12Km by road.
Kunjapuri Devi Temple :- Kunjapuri Devi Sanctuary is quite possibly the most venerated Shakti Peeths of Goddess Shakti in Garhwal Himalaya. This is an old sanctuary situated at around 1600 meters level. Excellence of this spot is, you can see snow-clad white Himalayas and waterway Ganga (Ganges) from a similar pinnacle. The spot well known for lovely dawn view with the Sun ascending from behind the Himalayan pinnacles. This spot is ideal area for yoga, contemplation, calm retreats and so on.
Thanks