History of Tehri Lake :- The Tehri lake was made when the Tehri Dam began getting developed in the year 1978. With the assistance of USSR who supported the task monetarily and actually, its development was finished in 2006 as it required long stretches of resistance from the political front and the natural fights.
Tehri lake is one of the most visited place by travelers in the Garhwal region of Uttrakhand state. Tehri lake is located of Tehri dam. It is perched at an elevation of 1700 meters. It is an artificaial lake made during the construction of Dam through river bhagirathi river diversion. Tehri dam is the tallest dam in Asia and is becoming the tourist hub in uttrakhand.
Tehri lake is now famous for water sports activities. it offers boating, banana ride, jet ski, speedboat, flying fish and many more. if you are going for a weekend trip to dhanaulti or kanatal, tehri lake is a must visit to Experience something adventure on lake. In these recent years, governemtn have taken certain steps to increase tourism in tehri. Government organise Tehri lake festival  every year in the month of february.  You can experience lot of activites in this festival. This festival gives you the chance to explore many activities specially water sports.
Though are many routes to reach Tehri, but if you are coming from Delhi side, the rishikesh route is the best way to reach tehri. Following are the best ways to reach Tehri lake in less time.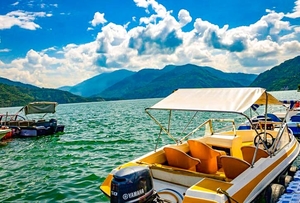 How to Reach New Tehri
How To Reach Mussoorie To New Tehri: You can just hire a taxi from Mussoorie to New Tehri was situated 70 km from Mussoorie, You will reach there by road in just 2 to 2 an half Hours by road via Kanatal and Dhanaulti.
How to reach Rishikesh To New Tehri: You can just hire a taxi from Rishikesh to New Tehri was situated 75 km from Rishikesh, You will reach there by road in 2-3 Hours by road.
Thanks