Some people get confuse by the name 'Kanatal'. They think kanatal is near to nainital, but that's not true. Kanatal is actually near to mussoorie.Lets take a look at another beauty which is less commercialized but no less than beauty of famous hill stations in north india.  
Yes geographically kanatal is near to mussoorie, which is approx. 35 kms. And within 01 hour of drive you will reach completely away from chaos of mussoorie. There is no doubt, if we call kanatal & dhanaulti a best offbeat destination from Delhi. It hardly takes 7-9 hours from Delhi. And you can reach kanatal via rishikesh or via mussoorie. We advise everyone to take Rishikesh route, because the road conditions are much better through Rishikesh, especially in winters & monsoon.
Lets discuss, what we can experience in kanatal & Dhanaulti.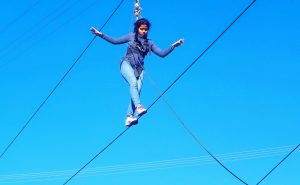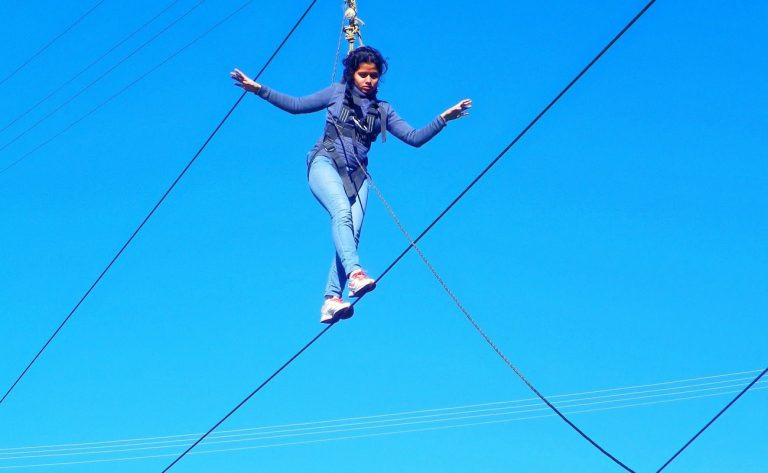 Things To Do In Kanatal & Dhanaulti:-
Camping In Kanatal
Kanatal is famous for adventure camping. You will numbers of adventure camps near kanatal & dhanaulti. And the best part is they offer all the facility, that you might be looking for. Camps in kanatal offer bonfire & music in evening. Adventure in kanatal is not complete without bonfire & music under the open sky.
Surkanda Devi Trek
Kanatal is famous for Surkanda devi Trek. Surkanda devi is known as the Shakti peeth of Maa parvati. There are 02 routes to reach surkanda devi peak. One is by stairs i.e the main route of mandir. And if u trekker and want to experience the thrill of jungle, then we suggest you to take jungle route. You will reach surkanda devi peak in 2-3 hours depending on your speed.
Once you reach the top, you will experience the best 360 degree view of snow mountains.
While coming back you can take stair route.
Adventure Activities In Kanatal
Kanatal is now a perfect destination for adventure activities. If you love adventure activities then kanatal is going to be your next destination to explore and experience adventure. Kanatal offers bridge crossing, rappelling , flying fox & many more. So, if you are adventure enthusiasts, thern you should visit kanatal. 
Kanatal is emerging as the adventure tourist destination near Dhanaulti & Mussoorie. one can experience Sky Bridge in Kanatal which is approx 300 ft long & at 80 ft height. Secondly Dhanaulti camps & kanatal camps offer Valley crossing , Zip swing, Rock climibing, Jungle Safari, Trekking and lots more. At kanatal heights, You will experience all these adventure activies nearby. That's Way we recommend Kanatal Heights as must places to visit in Dhanaulti & Kanatal.
Kaudia Jungle –
Kanatal is known for dense forests , and kaudia jungle is the best place to walk , if you love dense forests covered with oak trees. You can easily listen nature voice, birds chirping and many more.. If due to physical issues, you cannot do surkanda devi trek, then must explore kaudia jungle.kaudia jungle is exactly starting from club mahindra resort. So, you dont need to search for kaudia jungle. And the best part is kaudia jungle is safe for walking, if you are not going too dense in te jungle . 
Tehri Lake
Yes you heared it right. Kanatal Offers Lake experience also. This lake is one of the biggest lakes in uttrakhand and offers many water sports like boat ride, jet ski , banana ride , speed boat and many more. This place is one of the best places to explore near to kanatal. Tehri lake is around  35 kms from Kanatal. This lake is situated on Tehri Dam.
Dhanaulti Eco Park
Dhanaulti is around 10 kms from Kanatal & famous for Dhanaulti eco park. This park is well managed by authorities. You will not regret exploring the park. On top of park there is a beautiful view of mountains, where you can spend some time
Chamba-
Chamba is a nearest market from kanatal. It is around 16 kms from kanatal . If you are interested in exploring local markets , then you are going to love chamba markets. It's a bit over crowded market, because of only market option for nearby villages, but you will love the culture of chamba market.
 Rappelling – Battle Your Apprehensions:
One of the gutsy voyagers has a go at rappelling in Kanatal.The rough outcrops and regular sloping precipices of Kanatal are ideal for normal stone climbing and rappelling. Assuming you are arranging an excursion with a companion or a corporate trip, these exercises in Kanatal are extraordinary tomfoolery. Additionally, you can get weighty limits as these exhilarating exercises are generally coordinated by private camp coordinators and are presented as a component of the bundle. It is one of the top Kanatal activities.
Valley Crossing:
Kanatal Heights has amazing picturesque valleys, valley crossing is one of the most exhilarating things to do in Kanatal. A popular tourist attraction, this rope activity actually requires a lot of patience and physical fitness. However, it is performed under professional guidance. Valley crossing involves crossing an 80 ft deep valley by pulling a rope. If you are a first timer, go for a shorter distance crossing. Charges: INR 200 per person for 15 – 20 minutes activity.
Rock Climbing:
The rocky outcrops and natural hilly cliffs of Kanatal Heights are perfect for natural rock climbing or rappelling. If you are planning a trip with a friend or a corporate outing, these activities in Kanatal are great fun. Also, you can get heavy discounts as these thrilling activities are mostly organized by Kanatal Heights are offered as part of the package. Charges: INR 200 per person for 15 – 20 minutes activity.
Jungle Safari – Explore The Wild Side of Kanatal
If you are still wondering about what wild adventure to do in Kanatal, then Safari in Kodia jungle and spotting wildlife are among the most exciting things to do in Kanatal. The Kodia forest range from Swarg Yogini to Neelkanth has amazing thick plush green vegetation and is known for its rich flora and fauna. In the forest, you can spot numerous rare bird species and animals like musk deer, wild boar, and nilgai, and barking deer. Be prepared to capture them in your camera, along with clicks of the most photogenic scenic splendors in Kanatal. Charges: INR 2500 per person for a 2-hour jungle safari in a jeep
Timings: The safari starts early in the morning. Contact forest department for exact safari timings.
Thanks