Adventure Activities in Rishikesh- 
Rishikesh is not a new name for Adventure lovers. You name it, you'll get all the adventure activities in rishikesh. Rishikesh is not only a weekend destination but a heaven for adventure lovers. And best part about rishikesh is, you dont visit rishikesh once, but every time you wanna experience something thrilling, first name comes into your mind is Rishikesh. Below mentioned are the adventure activities in Rishikesh:—
River Rafting in Rishikesh:-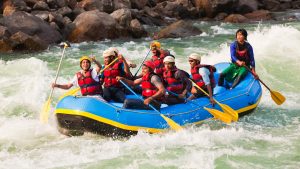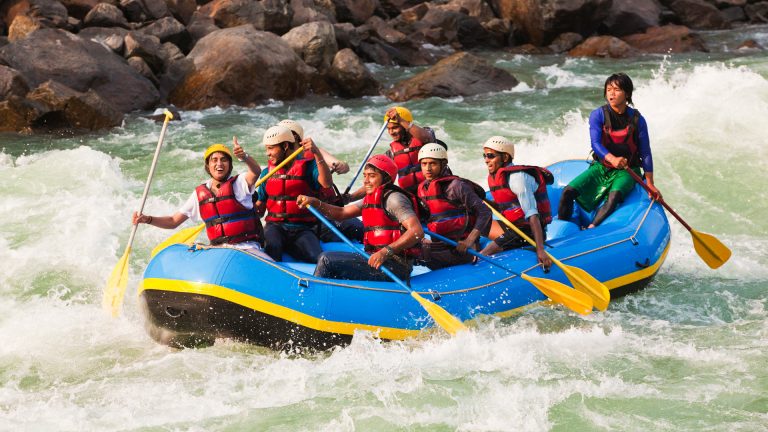 River Rafting in Rishikesh was very famous in all adventure lovers all over the world, because undoubtedly one of the most spectacular spots for White Water River rafting in India, Rishikesh has become a synonym for this thrilling adventure sport. You can enjoy the River Rafting in rishikesh according to your interest or choice from the Brahmapuri to Rishikesh stretch (9 km), the Shivpuri to Rishikesh stretch (16 km), the Marine Drive to Rishikesh stretch (24 km) and the Kaudiyala to Rishikesh stretch (36 km). Amidst these stretches, you will experience Rapids from Difficulty Level from Grade I to Grade IV. There are around 13 rapids, and some of them have unusual names, like- The Wall (falls between the Kaudiyala and Marine Drive stretch and is most difficult of all), Roller Coaster (falls between the Marine Drive and Rishikesh stretch). While on these stretches, you can enjoy the serenity of mountains and splendour of the white sand beaches around and at the end of rafting you can experience Cliff Jumping at Cliff Jumping Point and after that Maggie Point here you can enjoy Maggie and tea after rafting. The best time of the year for river rafting in Rishikesh is from July to Nov.
Bungee Jumping in Rishikesh:-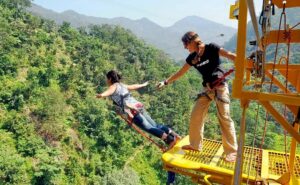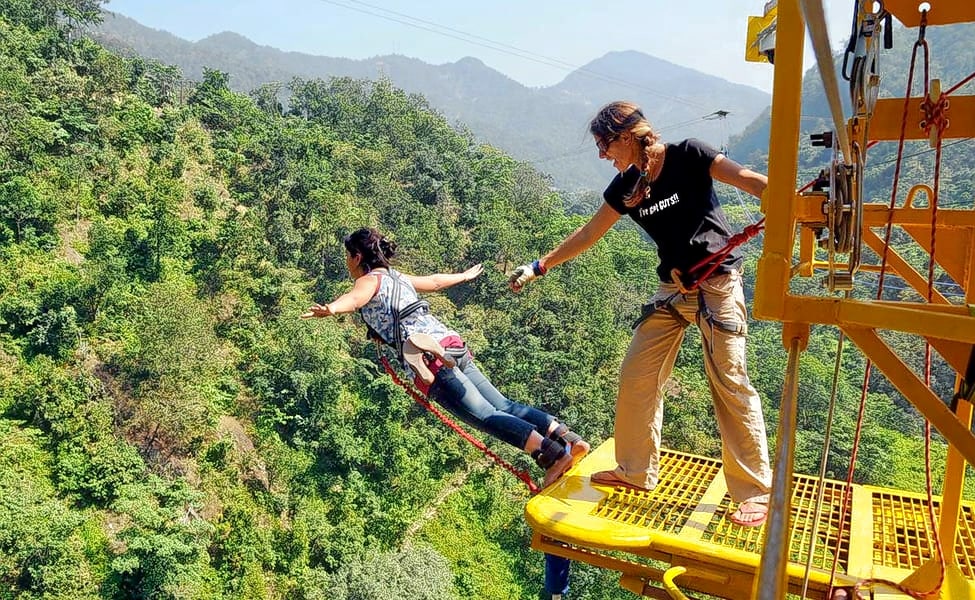 Bungee Jumping in Rishikesh, these words can give goosebumps to quite many travelers across India specially adventure lovers. The Rishikesh city boasts of having country's highest bungee, operated by experts with significant experience. Jumpin Heights feature India's highest bungee jumping in Rishikesh with height of 83 meters. What is the best time for Bungee Jumping in Rishikesh?? The Answer is best time for bungee jumping in Rishikesh actually is anytime around the year expect monsoon, it is suggested you avoid monsoon season, Bungee Jumping in Rishikesh might get put on hold due to heavy rain and strong winds and in the monsoon season you will also not be able to enjoy the other adventure activities like River Rafting Cliff Jumping, Flying Fox and Zip Line in rishikesh.
Flying Fox in Rishikesh:-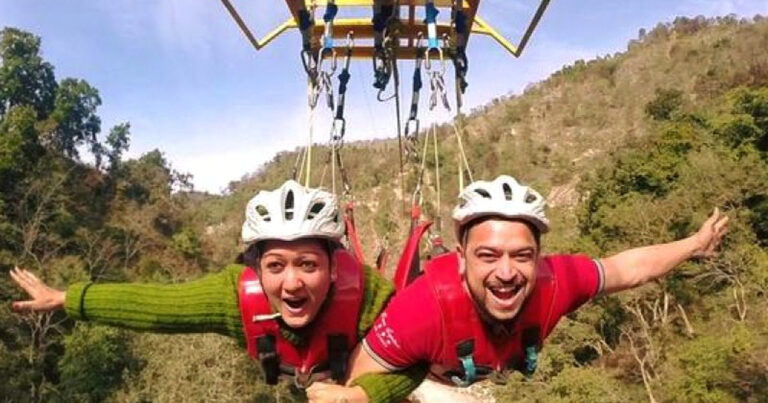 Rishikesh Flying Fox is Asia Longest 1 kilometer, one in all the popular adventure Activities experience the flying fox adventure operated according the international safety standards. The platform is fixed with a hard wire from one end of the valley to the opposite. Imagine yourself perky through the air at such kind of high speed like a Bird Fly. You can find many flying fox activity in rishikesh package this one involves experienced guides and trainers, who can make sure that you have a hassle-free, safe and memorable experience while soaring down. Whether you do the flight alone or you can share with two other people, the experience of flying fox in Rishikesh at Shivpuri and provides you with some of the most exciting views of the Himalayas.
Beach Camping in Rishikesh (Shivpuri Rishikesh):-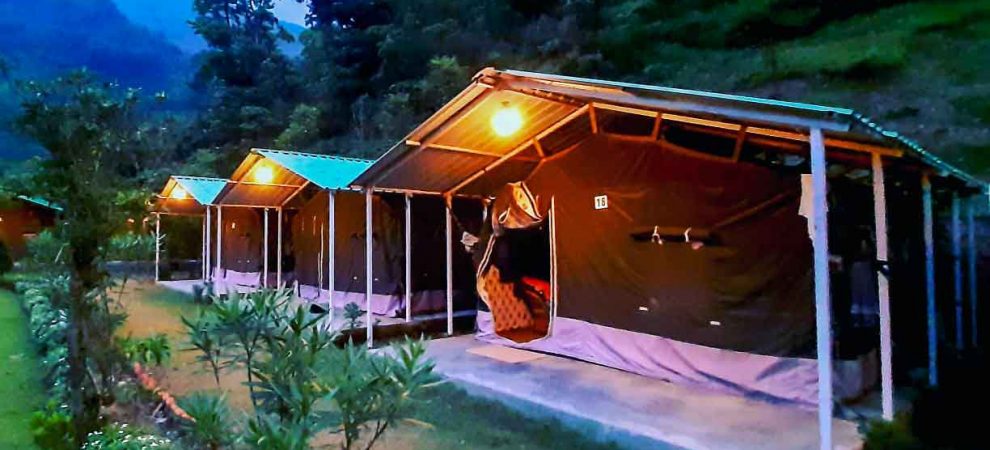 One of the common reasons of most of the adventure lovers who visit in Rishikesh, Ganga Beach Camping in rishikesh is best option for camping. Lifetime Experiences Camping in Rishikesh Beaches! You can pick from some of the more popular beaches in Rishikesh, such as Marine Drive, Shivpuri, and Byasi. These are the locations who have provisions for large camps with different kinds of tent accommodation options like Swiss Camps, Cottages, Luxury Camps, alpine tents with food and temporary toilets, indoor activities also. Just breathe in and feel rejuvenated by the sight of the clear waters and forests all around you!
Kunjapuri Temple Trek in Rishikesh:-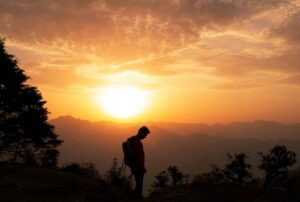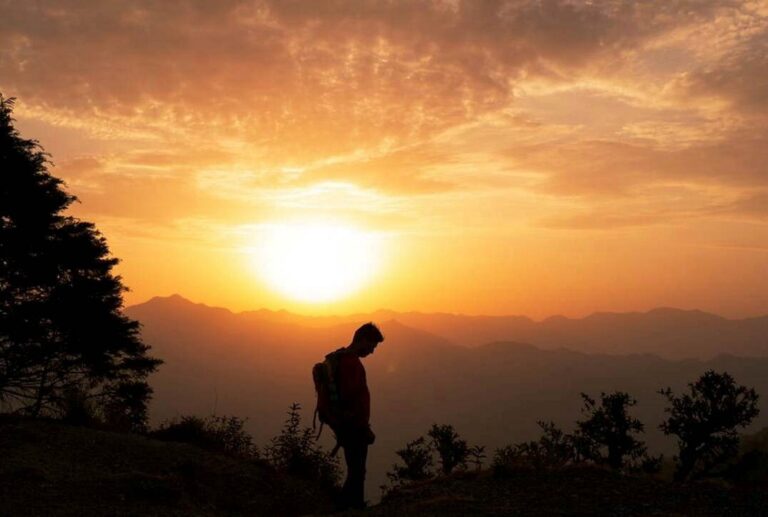 Kunjapuri temple is one of the most spiritually significant places in Rishikesh that is dedicated to a famous Hindu goddess. This Kunjapuri temple trek will take you on a morning trek to the famous temple. If you are looking for something more exciting weekend then head out for this Kunjapuri temple trek one of kind sunrise trekking in Rishikesh. Kunjapuri Temple is Located at an height of 1676 mtrs on a hill. Kunjapuri Temple trek also offers panoramic views of snow capped mountains and peaks such as Swarga Rohini, Gangotri, Banderpunch and Chaukhamba.
Waterfall Rappelling in Rishikesh:-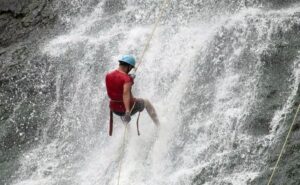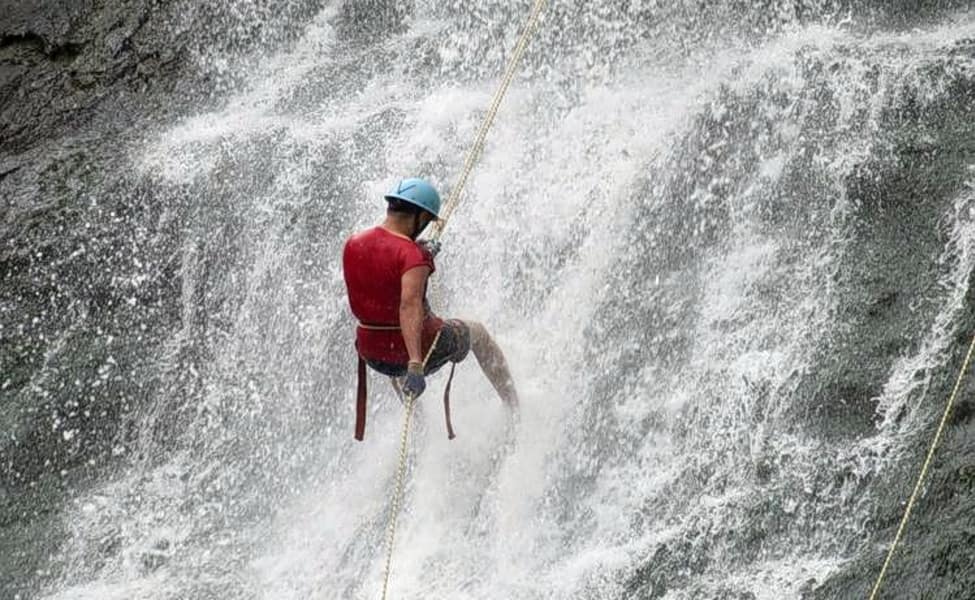 Have you at any point envisioned yourself in the midst of spouting waterfall, attached to a rope and gradually proceeding downwards? On your following visit to Rishikesh, you can encounter this. It is undoubtedly one of the most thrilling exercises in Rishikesh.
Waterfall rappelling will give you the perfect proportion of adrenaline rush as your body is constrained somewhere near the water and you need to venture down slowly and deliberately while keeping up with your equilibrium. The beautiful Neer Garh waterfall are probably the best waterfall in Rishikesh to take a stab at this action. Be that as it may, this one's not for the cowardly.
Giant Swing in Rishikesh:-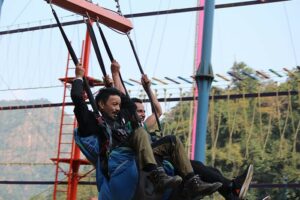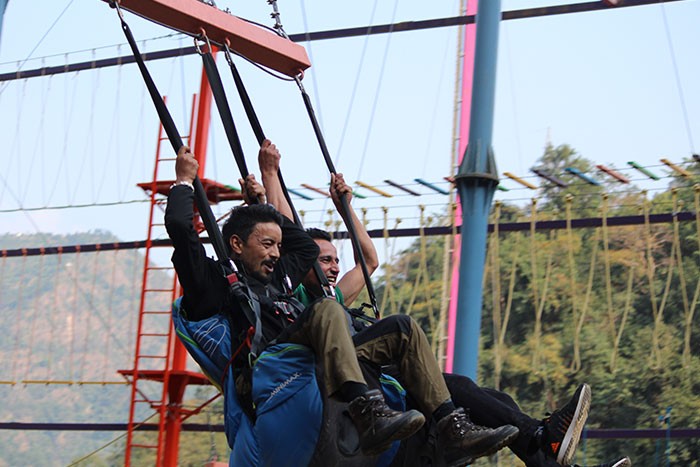 Like the experience of bungee bouncing, the monster swing is another rope based experience sport in Rishikesh. Travelers don't need to search for a great deal to tick this oddball, you can attempt this at Mohan Chatti itself while you are up for the bungee bouncing experience.
The long versatile harmony will swing you across the valley from a level of 83 meters and you hold tight for some time to the woods in the fun of it. It is a seriously astonishing encounter for those of you that adoration experiences including level.
Must Read :-  PLACES TO VISIT IN RISHIKESH 2022
How to Reach Rishikesh
How to Reach From Delhi to Rishikesh: You can Just Hire a Private Taxi from New Delhi Railway/ Bus Station or International Airport, Delhi to Rishikesh was situated 240km, You will reach there by road in 5-6 Hours. You can book bus tickets also from online or offline, you will find many local or private buses also from Delhi to Rishikesh or You can take a train to get from New Delhi Railway Station to Hardiwar, Haridwar is the nearby city From Rishikesh. The train trip will take you from 4 to 7 hours, depending on the train, and from Haridwar to Rishikesh you have many options available by road from haridwar.  you can take local auto too reach rishikesh in budget . it will take max 01 hour.
Thanks
Kanatal Heights
---
FOR ENQUIRY…