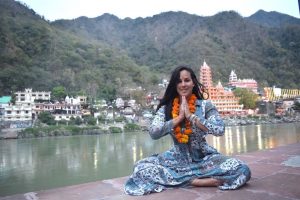 Rishikesh is a magnet for divine chasers, is the calmest place in Uttarakhand With multitudes of ashrams, it has been called as the 'Yoga capital of the world'. This place provides great opportunities for adventure sports like trekking, climbing, mountain biking. But it is well known for white water rafting on River Ganga (or the Ganges).
The answers you seek never come when the mind is busy, they come when the mind is still. Rishikesh is one of the most beautiful destinations in India, but the religious presence of Ganga and other holy places near the city makes it even more peaceful. People visit this place in search of spirituality, peace as well as adventure. From September to June is considered to be the best month to visit Rishikesh. During 1968, the Beatles came to this holy city to get in touch with the spiritual side. Since then, the city became the top spiritual destination in the world.
Rishikesh is a beauty of its own that no other place can match. Being a hill station and having the spiritual essence, of Lord Shiva makes it so much more peaceful. Rishikesh is not only beautiful but a pocket-friendly place. You can visit the city at a low budget and still have an amazing holiday. This city a must visit place for ever traveler and for every person who is looking out or a break from his normal routine.
Apart from mountains, nature, and temples, there are many more places like Laxman Jhula, attending Rishikesh Ganga Aarti, NeerGarh Waterfall ( a paradise to everyone's eyes), you can also visit very famous Shiva temple Neelkanth Mahadev Temple, Neer Garh Waterfall and sports like river rafting in rishikesh, Bungee Jumping and Flying fox that makes Rishikesh a must-visit. Rishikesh also has a number of resorts offering a lot of activities and campaigns around river Ganga and having some wonderful scenic views and you will also find some hidden or find waterfall in rishikesh.
Below are some famous Yoga ashrams in Rishikesh:–
Anand Yoga Ashram
Parmarth Yoga Ashram
Himalyan Yoga Ashram
Go and explore these renowned Yoga ashrams on your next visit….
Thanks