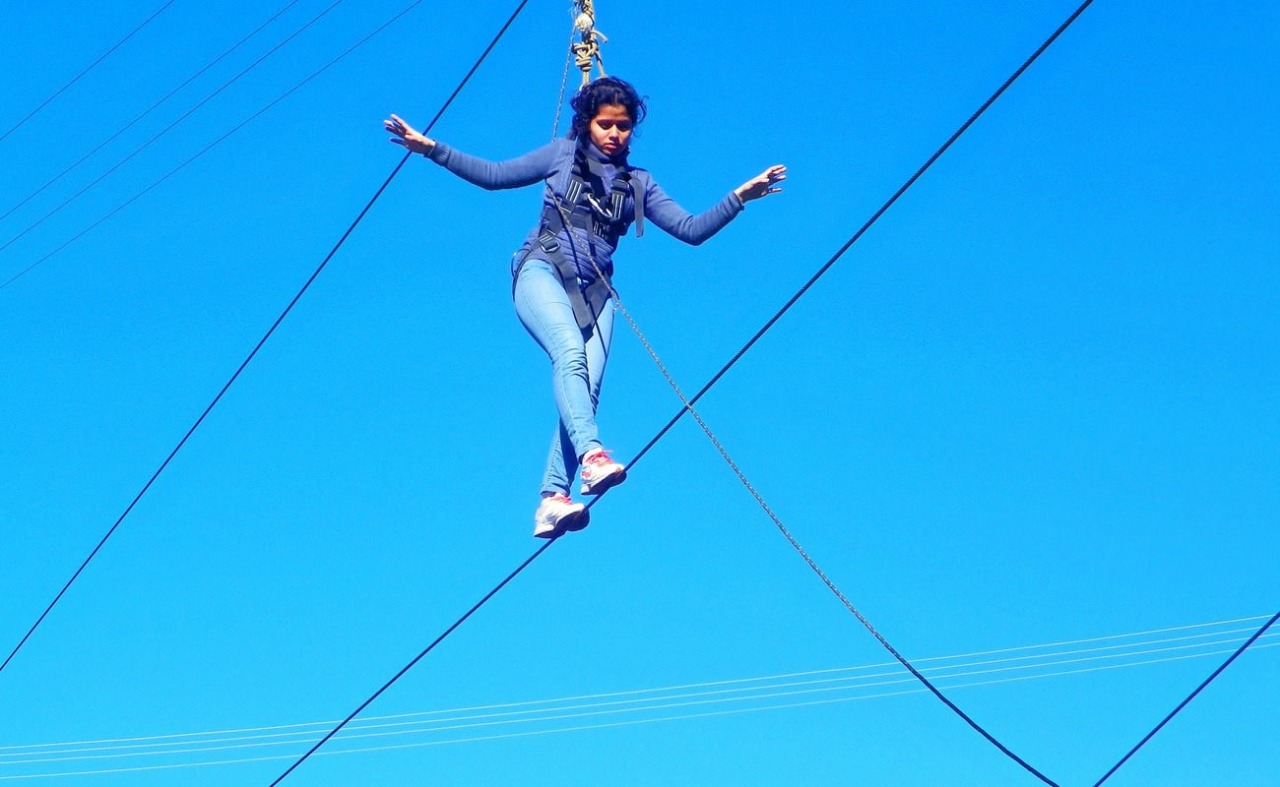 Surkanda Devi is a famous hindu temple ( shaktipeeth ) near to kanatal at an Altitude of 10500 feet close to famous hill stations like Mussoorie( Approx 35 kms ) , Dhanaulti ( Approx 06 kms ) & Kanatal ( Approx ( 06 kms ) .  Surkanda devi temple is surrounded by Dense forest. And attracts many locals during a festival during May & June.
According to the mythology, this place is associated with legend of Sati, a wife of lord Shiva and daughter of King Dashrath. King Daksha was not at all happy with his daughter's choice of Husband & when a performed a grand vedic sacrifice, he did not invited lord Shiva & Sati , So, Sati threw herself onto the fire, which made the sacrifice impure, because she was all powerful mother goddess.  So, Sati left her body to be reborn as the goddess Parvati.  Shiva was very angry for the loss of his wife. He put's Sati's body over his shoulder and began Tandav throughout the heaven & didn't stop until her body was completely Rotted away. All the Gods were afraid of Shiva's Tandav & followed Shiva . Then Lord Vishnu sent his sudarshana to destroy the corpse of Sati.  So, according to myth, there are 51 pieces of Sati's body scattered across the Indian subcontinent. These places are called Shakti Peethas. When shiv was going back to Kailash carrying Sati body , her head fell at the spot where Surkanda devi stands now.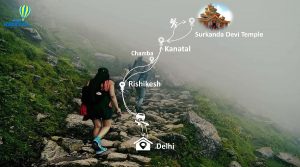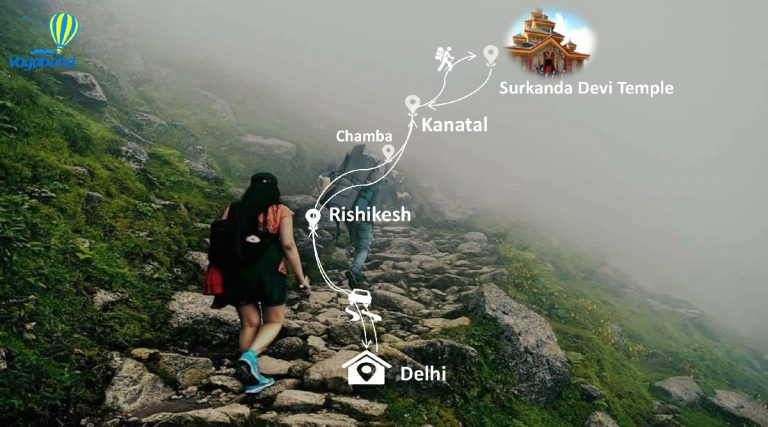 How To Reach Surkanda –
Surkanda Devi is easily accessible by many routes. Either you can come through Mussoorie Road or Through Rishikesh Road.   Geographically Surkanda Devi is approx. 80 kms from Rishikesh & approx. 70-75 kms from Dehradun. if you are a new driver on hills , then we better suggest you to come via rishikesh as the roads are wide and in good conditions. 
Surkanda Devi Trek –
Surkanda Devi trek is now becoming popular trek for beginners. If you want dense forest experience , then there is a jungle trek for around 3-4 kms which take 2-3 hours. Once you reach on top , you will get 360 degree view of Himalayan Snow peaks. Travelers are now getting attracted for Surkanda devi trek.Surkanda devi is one of the shakipeeth in india. and have religiously very famous among pilgrims. 
Best Time To Visit Surkanda-
Surkanda devi is accessible throughout the year. But the best time to Visit this temple during summer time. Though in Winters you will find snow here. But if you love to explore snow, then winters are not he bad idea to explore Surkanda devi. But make sure you can handle Hills winter as the temperature goes down to 0 degree in night, which makes the normal life little hectic.
So, next time whenever you plan to visit kanatal or dhanaulti or mussorrie , you must explore surkanda devi temple. Its totally your choice, if you want trek upto temple or go via stairs. This is totally your choice. Because reaching uphill is worth to explore. 
Thanks